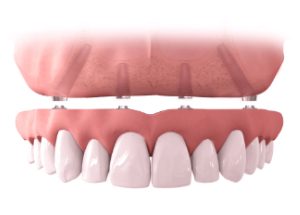 Implants for stabilising or replacing dentures
Implants can be a wonderful solution for painful or loose dentures. There are two ways of using implants with dentures: removable (snap-on) and non - removable (fixed bridge or all on 4 solutions).
The removable attachment is the most simple and budget friendly way to connect a lower denture to usually two implants. See the video below for the snap-on denture.
For replacing an upper denture the non-removable ten teeth bridge solution on minimal four implants (all on 4) is best, because experience has learned that it has the least maintenance and is the most comfortable. This can also be done for the lower denture as a replacement for the whole denture. But a warning is in place here. The reason for loosing the teeth in the first place was often due to a the combination of bad nutrition and minimal cleaning and professional maintenance of the teeth. Implants are great as they will not get cavities. But they still need a healthy gum to survive. For this good nutrition and intensive twice daily cleaning is essential, as is 6 monthly checks. It is important to realise that the choice for implants means a real effort on the patients side. The reward is so much more enjoyment of good and crunchy food...
Snap on denture on 2 implants
Our advice for the lower jaw denture is: always try the snap-on 2 implant solution first before considering an "all on 4" solution. It is far cheaper, easier to clean and more durable. It is also a good solution when you are a clecher or grinder. Then you can simply reduce the wear by not wearing the denture at night. For those who do not do this, wearing at night is no problem. The only extra costs is the once yearly check and maintenance to replace worn snappers. Fill in your name and email below for your quote.
All On 4 (implants) options
"All on 4" is a concept that was developed to create a fixed plastic full denture on only 4 implants. Using only 4 implants and using plastic to create the teeth is a relatively cheap way to replace all teeth. Yet it is not very durable and it is often hard to clean. We often see plastic breaking and to create enough strength there is need of a very thick plastic denture that often gives trouble with speech and is very hard to clean. As a result of that we see quite a lot of these "all on 4" patients back with problems.  We have decided to only make "all on 4" out of a titanium frame work with ceramic teeth on it. This costs about double of the plastic solution and will last three times longer, is easier to clean and has less speech issues. Below is a picture of an all on 6 titanium ceramic bridge. Fill in your name and email below for your quote.